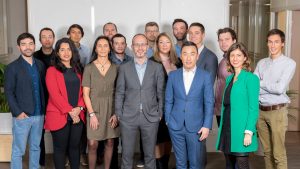 French Space Agency (CNES) spin-off, ANYWAVES© develops revolutionary antennas for SmallSats.
Based on breakthrough technology and an expert team, ANYWAVES© designs and manufactures a new generation of miniature, high-performance and high-quality antennas for Space applications such as Telecommunications, Navigation, Earth Observation, Atmospheric Input and many others.
ANYWAVES© is the first European "pure player" Antennas for the "Newspace".
The company also offers an expertise in Antennas to support its customers and to guarantee the final performance of antennas in their operating environment.
ANYWAVES© has the ambition to become the leader of miniature antennas for critical systems.